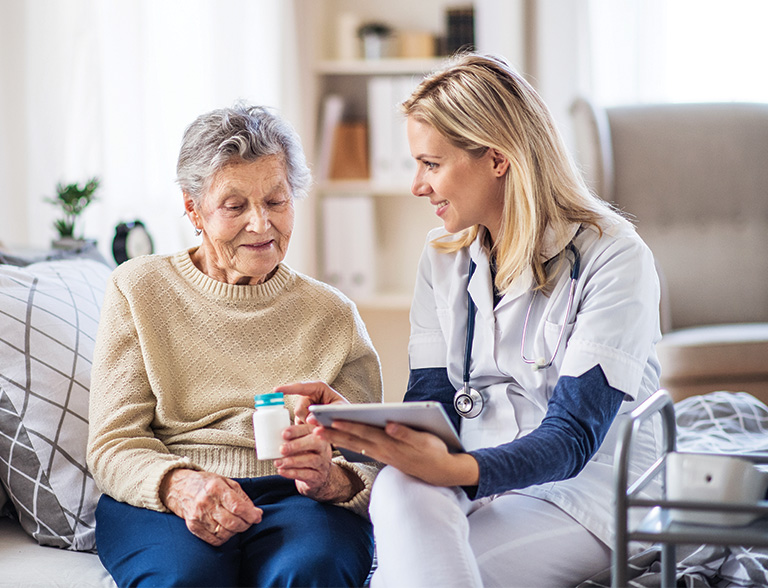 Home Care Services of Visiting Nurse Home & Hospice is intermittent care – care provided several times a week or less for a short period of time – that requires special skills not ordinarily carried out by a lay person. Care may be provided more often if the medical condition of the patient requires it, but it is not private duty nursing. Care is provided by professionals and paraprofessionals. The Visiting Nurse Home and Hospice Home Care staff includes:
Registered Nurses

Certified Nursing Assistants

Home Health Aides

IV Therapists

Medical Social Workers

Dietitians and Nutrition Counselors

Occupational Therapists

Physical Therapists

Speech Therapists
How Do I Get Home Care?
If you are in a hospital located in Rhode Island or southern Massachusetts and need skilled home care, the discharge planner arranges for the services you need. Tell the discharge planner that you want your care to be provided by Visiting Nurse Home & Hospice and Intake will set up your service.
If you are already at home or getting ready to go home, you may contact Visiting Nurse Home & Hospice by calling 401-682-2100 or 800.456.1195.
How Do I Pay for Home Care?
Home Care is covered by most private insurances, Medicare and Medicaid when there is a medical need for such care and it is authorized by a physician. Private health insurance may have special conditions. Call your health insurance company for more details. Medicare also requires that a patient be homebound. "Homebound" means that the patient requires a considerable amount of help to go out, with excursions limited mostly to doctor visits.
If you have no health care coverage and cannot afford the service fee, you may complete an application to determine if you qualify for reduced fee or free care. The Visiting Nurse Home & Hospice is a not-for-profit committed to assist everyone, regardless of ability to pay.